Science & Creative Curriculum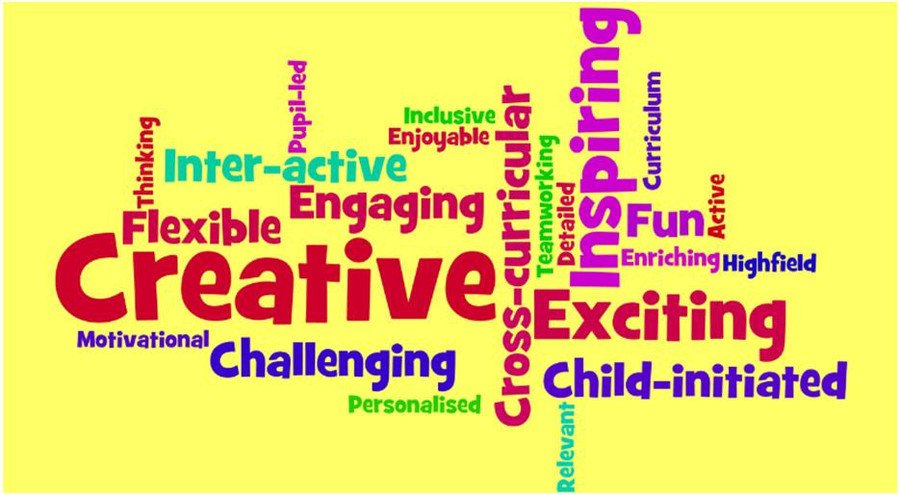 Our Creative Curriculum is a carefully planned, practical, thematic approach to teaching and learning designed to support children's natural curiosity and stimulate their creativity. It encompasses the 2 main subjects: History, Geography; as well as elements of Art & Design and Design Technology. It offers children the opportunity to work in depth, giving them the time they need to reflect, consolidate, transfer and apply their learning. We feel that putting learning into a context makes it a more meaningful experience.
We are proud of our Barr View Curriculum and begin by planning our themes around an element of History or Geography. This is the starting point for our theme and we then use the children's prior knowledge, their interests, the National Curriculum and our school's context to plan out the rest of the learning. Opportunities to extend our children's reading, writing and mathematical skills are planned regularly.
We feel that our Creative Curriculum equips our children with important skills for life such as co-operation, communication, organisation, presentation, team work, problem solving and investigation – all of which are at the heart of our Creative Curriculum themes.
Please use the links below to access the Creative Curriculum themes for each year group, detailing the areas of History, Geography and Art & Design being taught.
| Name | |
| --- | --- |
| EYFS Reception Curriculum Map - prospectus.pdf | Download |
| Year 1 Curriculum Map with Olympics.pdf | Download |
| Year 2 Curriculum Map with Olympics.pdf | Download |
| Year 3 Curriculum Map with Olympics.pdf | Download |
| Year 4 Curriculum Map with Olympics.pdf | Download |
| Year 5 Curriculum Map with Olympics.pdf | Download |
| Year 6 Curriculum Map with Olympics.pdf | Download |
Showing 1-7 of 7
Nursery – This year Nursery looked at a story called 'It's ok to be different' which celebrates the uniqueness of every single person.
Reception – "Reception have been researching Mary Seacole and her role as a nurse as part of their work looking at 'people who help us.' We thought about how she showed caring, compassion and bravery during a challenging time and how nothing stopped her from achieving her dream."
Year 1 – We learned about all the amazing work Lenny Henry has done for millions of people all over the world in terms of CIN and Red Nose Day. We focussed on his charity work, raising money and being a great black role model. We wrote thank you letters to Lenny and made handprints with the words 'We are equal' written on them.
Year 2 – In Year 2 we learnt all about Benjamin Zephaniah and the contribution he has made to Children's literacy. We enjoyed listening to poems on his YouTube channel from his book 'Funky Turkeys'. The children found out that Benjamin Zephaniah likes to use his poems to speak out about important issues like racism and climate change. The children worked with a partner to write a line that altogether formed an acrostic poem of Benjamin Zephaniah's name.
Year 3 – "During Black History Month year 3 have been exploring Bob Marley and looking at his life and his music. We have also researched Lewis Hamilton looking at how he became a racing driver and what his different influences and experiences are."
In year 4 we looked at Dame Kelly Holmes and we created a fact file in our CC books. Haseena will take pictures tomorrow and send them to me so I can forward them on to you. Our main piece of work was an interview where children used their research to create a question and answer style interview and we recorded these interviews and have saved them to our area
Year 5 – In year 5, we set homework for children which enabled them to research a role model of their choice. Marcus Rashford was a popular choice for his fantastic efforts to support children during lockdown. During school time, we looked firstly at Nelson Mandela- this linked to our topic of walls and barricades - looking at political barriers. We then looked at Malorie Blackman and celebrated her successes, acknowledging why she is a fantastic role model. The children created biographies of her life.
Year 6 – This week we have discussed what Black History Month is and why it is important. We have learnt about famous black people throughout history and talked about any black men and women who we find inspirational today. Our focus for the week has been influential black musicians; in particular, we have learnt about the grime rapper Stormzy and why he is influential to so many young people including his work to support black students attending Cambridge University. As well as writing a fact file, we also designed and created our own collage artwork inspired by the music artist.
Power Projects
Every half term's learning in Creative Curriculum is based around a theme in Years 1 to 6. As part of their homework, pupils are asked to choose and complete a minimum of two activities from a list of possible activities which link closely to this theme. The activities are linked to different areas of the curriculum including Maths, Design and Technology and History. Children may choose areas of the curriculum or theme which particularly interest them and/or utilise their talents and abilities. The children are encouraged to work with a member of their family to complete these tasks.
For example, pupils in Year 1 studying a topic on 'Toys' can choose from the following list of activities:
Can you make a glove or a sock puppet?
Draw or paint a picture of your favourite toy and write some sentences to describe it.
Write a list of things you will need for a picnic with your favourite toy.
Research the toys that your parents and grandparents played with when they were little.
Write a party invitation to your friends and their toys. What do they need to bring?
What do they need to wear? What will they do at the party?
INSPIRE Sessions
During the year, each year group runs an 'INSPIRE' session where parents are
invited into school to work alongside their child.
INSPIRE is a valuable opportunity for parents to learn more about what their
child is learning in school and how to support and extend their learning at home.
During this academic year parents will be invited into school to complete a Power Project style activity with their child.